Dave Lane's Hi-Tech Mechanical
Dave Lane started in the A/C & Heating business way back in 1963. Dave soon gained the knowledge he needed to open his own business and did just that in 1976. Dave Lane himself may have retired in 2003 but his dream and legacy live on today. Ronnie & Becky Hoffart opened Hi-Tech Mechanical in 1995 with one goal, to bring comfort to Houstonians and they did that for over 20 years before deciding it's time to step down.
Dave Lane's Hi-Tech Mechanical AC company is now owned by Danny Nunley, a long-time employee, Danny started with Dave Lane A/C in 1987 and has been in the A/C & Heating business since 1985. His son Tyler Nunley started the business in 2011 and is now in charge of the day-to-day operations.
In 2017 Dave Lane A/C & Hi-Tech Mechanical merged to better serve our customers and become what is now known as Dave Lane's Hi-Tech Mechanical. Most of our customers have been with us since 1976 and are very loyal and we truly appreciate them. Our slogan "RED CARPET SERVICE" is not just a saying, it's something we stand by and work hard to provide day in and day out. From the office staff (Judy, Marcela, Sabrina, and Miranda) to our service techs in the field (Ronnie, Jesse III, Ryan, Joe, Krikor, and Chris) down to the installing teams (Christian, George, Erik, Bryceson, Matt, and Jesse IV) we are here for your comfort needs. So, if you are looking for a simple A/C check-up or a complete installation of a High-Efficiency A/C & Heating system give us a call we are here to help!
Our Team
Get to know the faces behind of Red Carpet Service
Danny Nunley
President
---
Danny has been in the business since 1985, he started working for Dave Lane A/C in April of 1987. In 2003 when Dave Lane retired, Danny was approached to take over and has been running the company ever since. In April of 2017, he purchased Hi-Tech Mechanical and merged the two companies to form Dave Lane's Hi-Tech Mechanical. He is an avid fisherman, loves to hunt, and is a big Houston sports fan. Feel free to call him anytime, he is always here to help!
Tyler Nunley
Vice President & COO
---
Tyler is a 3rd generation HVAC technician, following both his dad and grandfather into the field. He has been in the business since 2011 and hopes to follow in his father's footsteps and take over the company one day. He became Vice President & COO of the company in 2021 handling the day-to-day operations of the business. He is here to help in providing our customers with their comfort needs. If you have any questions, give him a call. He will be glad to help anyway he can!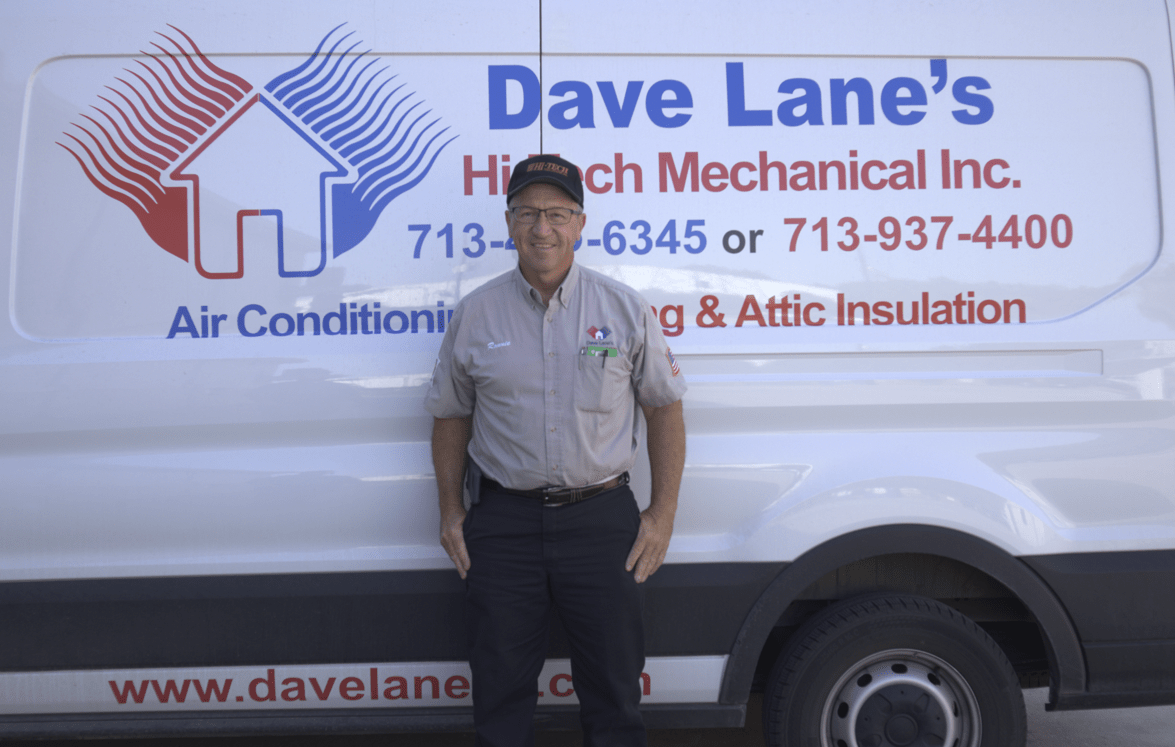 Ronnie Hoffart
Service Manager
---
Ronnie has been in HVAC field for over 40 years. Running his own business for 25 years and now the service manager here at Dave Lane's Hi-Tech Mechanical. He is NATE certified and committed to quality service. Let him bring his lifetime of knowledge to help you!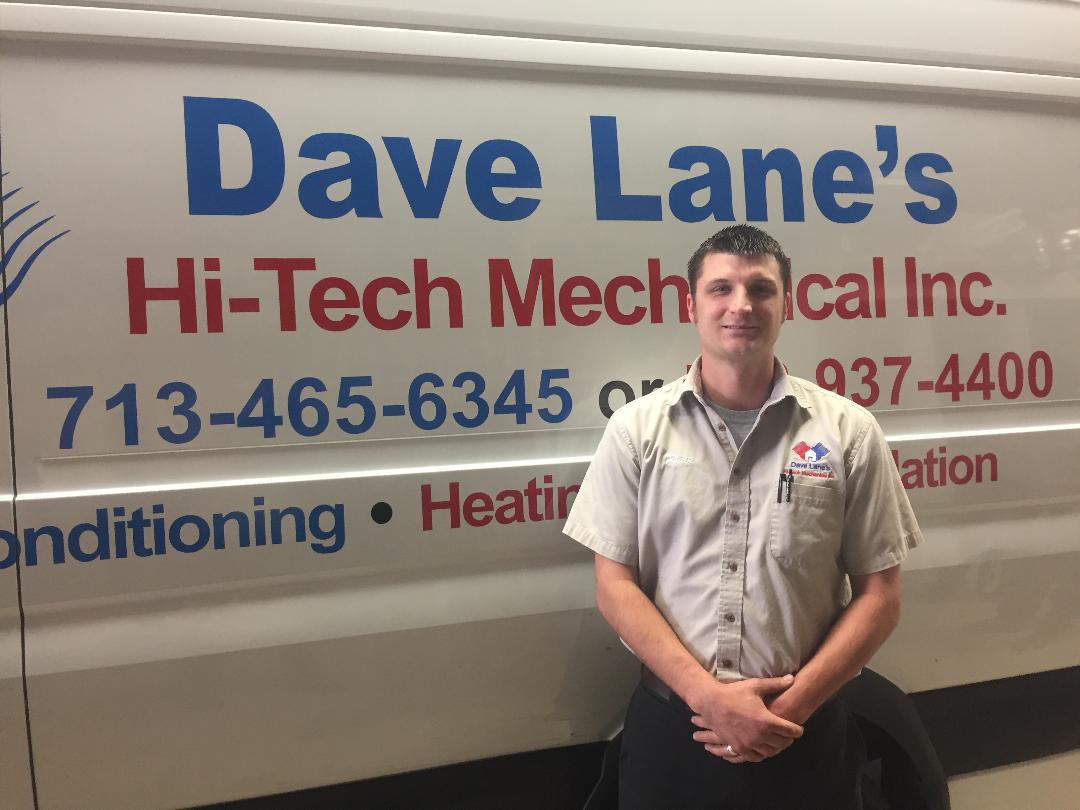 Ryan Golightly
Senior Service Technician
---
Born and raised in Houston, Ryan has been providing Houstonians with HVAC services since 2007. He's an avid fisherman, big time sports fan and an even bigger family man. He takes a lot of pride in his job in providing our customers with red carpet service.
Jesse Ojeda
Senior Service Technician
---
Jesse started working for Dave Lane in 1999 and became licensed with the state of Texas in 2015. He is a father of 4 boys. His hobbies include going to church, fishing, hunting, camping, swimming, exercising, and spending time with family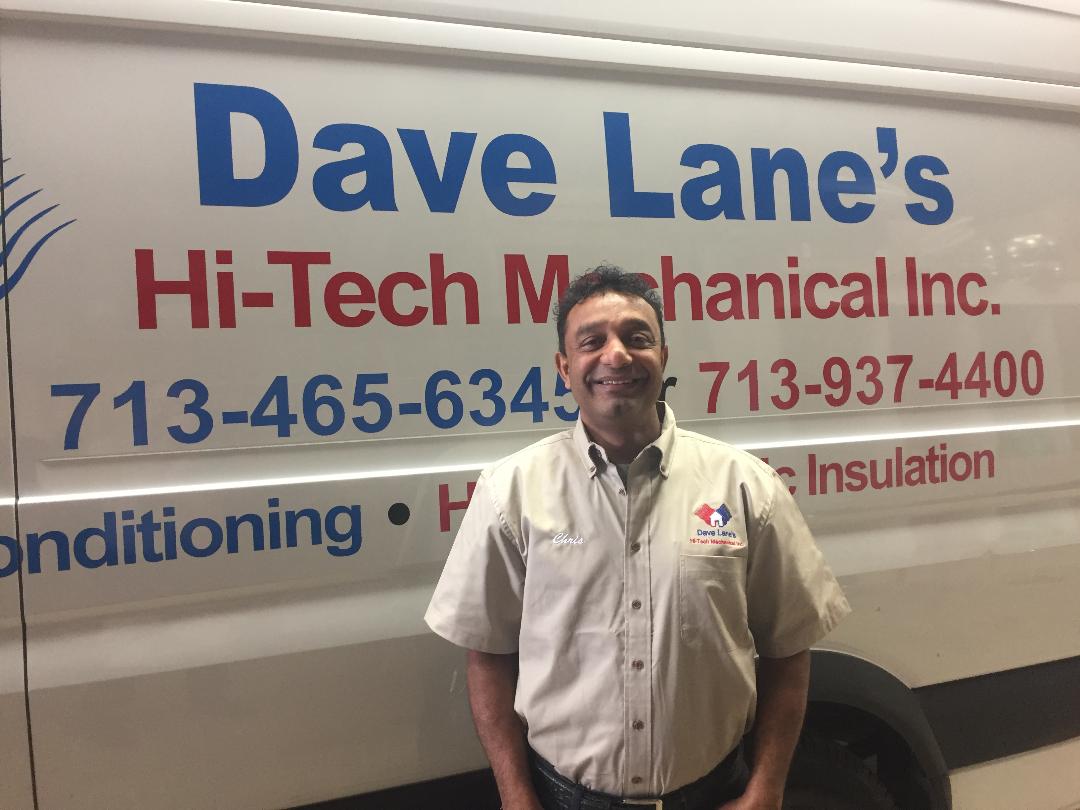 Chris Moonie
Service Technician
---
Chris has been professionally installing since 2013. He takes pride in the work he does and always strive to provide great customer service! Let him help design your future A/C and Heating system.
Joe Libby
Service Technician
---
Joe has been in the HVAC field for 10+ years. He loves helping customers anyway he can. Feel free to ask for Joe, he will always put you first!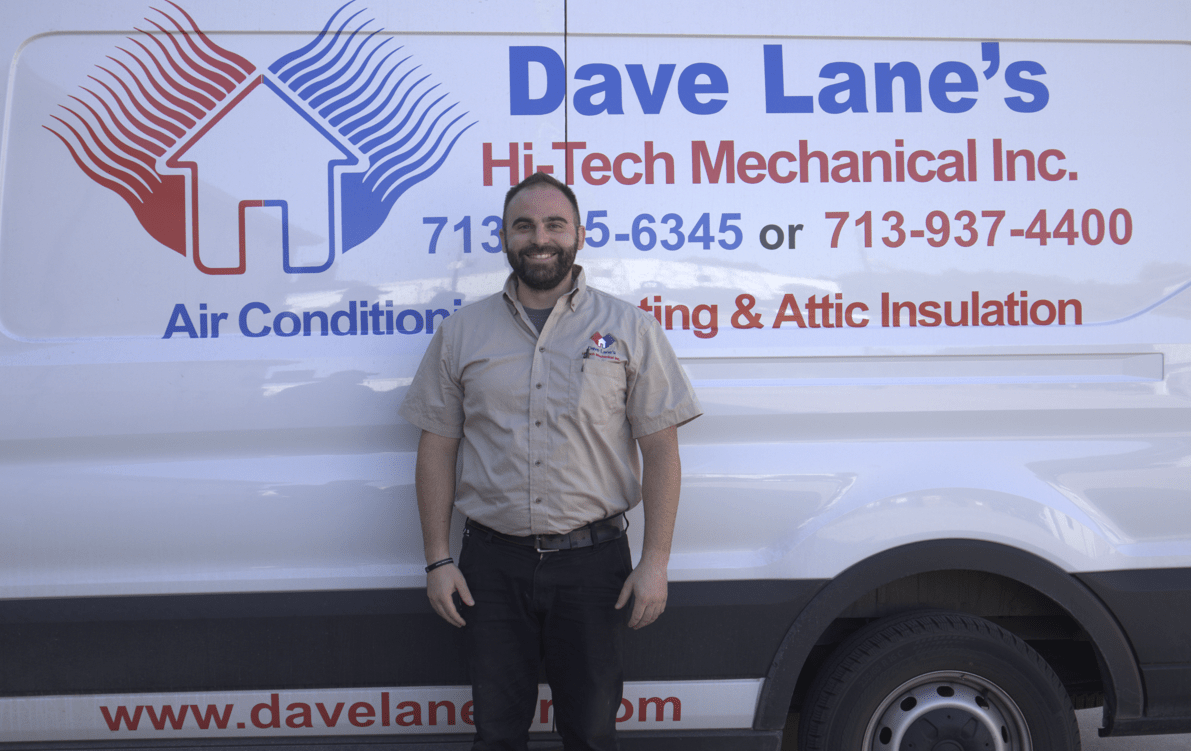 Krikor Deradourian
Service Technician
---
Krikor (pronounced Creek-Or) is a Philadelphia native where he spent many years in the HVAC field. He transferred to Florida about 2 years ago before making his way to Houston. Excited to be apart of the Dave Lane Crew, He's here to help our customers to receive our world famous Red-Carpet Service.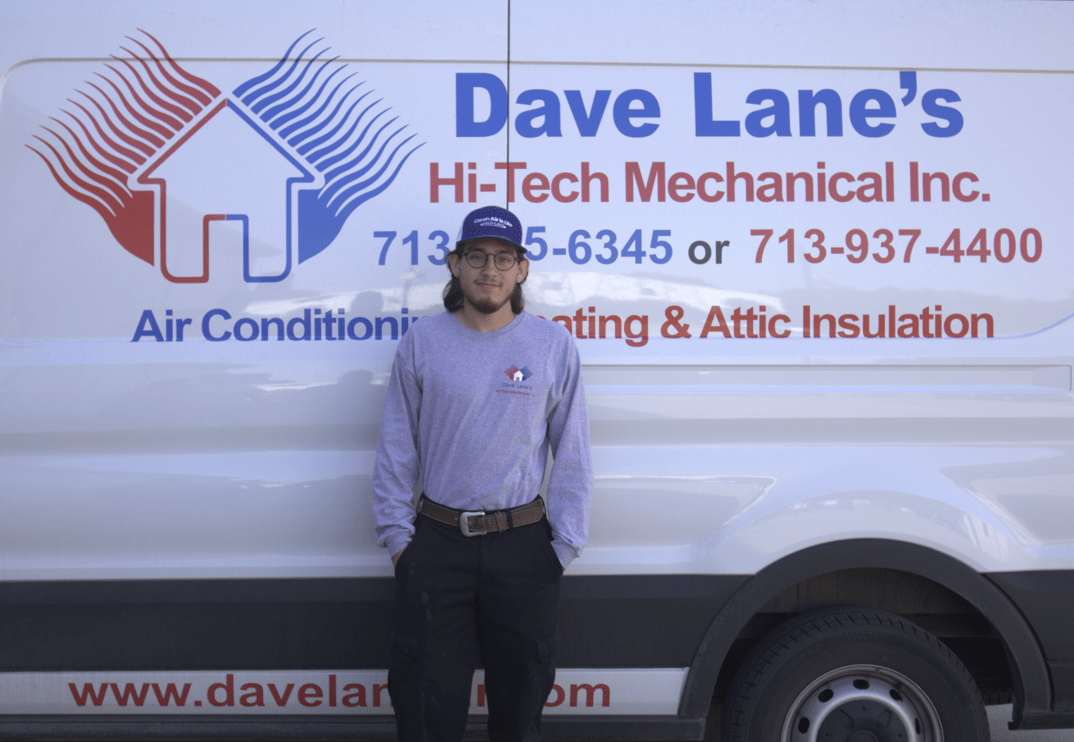 Jesse Ojeda IV
Installation Helper
---
Jesse Ojeda IV is son to our senior service technician Jesse Ojeda III. Jesse is 4th generation entering into the HVAC field following his great grandfather, grandfather, and dad into the field. Jesse loves spending his time and effort to bring top notch service to all of our customers!
Matt Nunley
Installer
---
Matthew has been with the company since 2018. Son of the owner, he enjoys his time with the company doing all he can to bring our customers top of the line service/installation.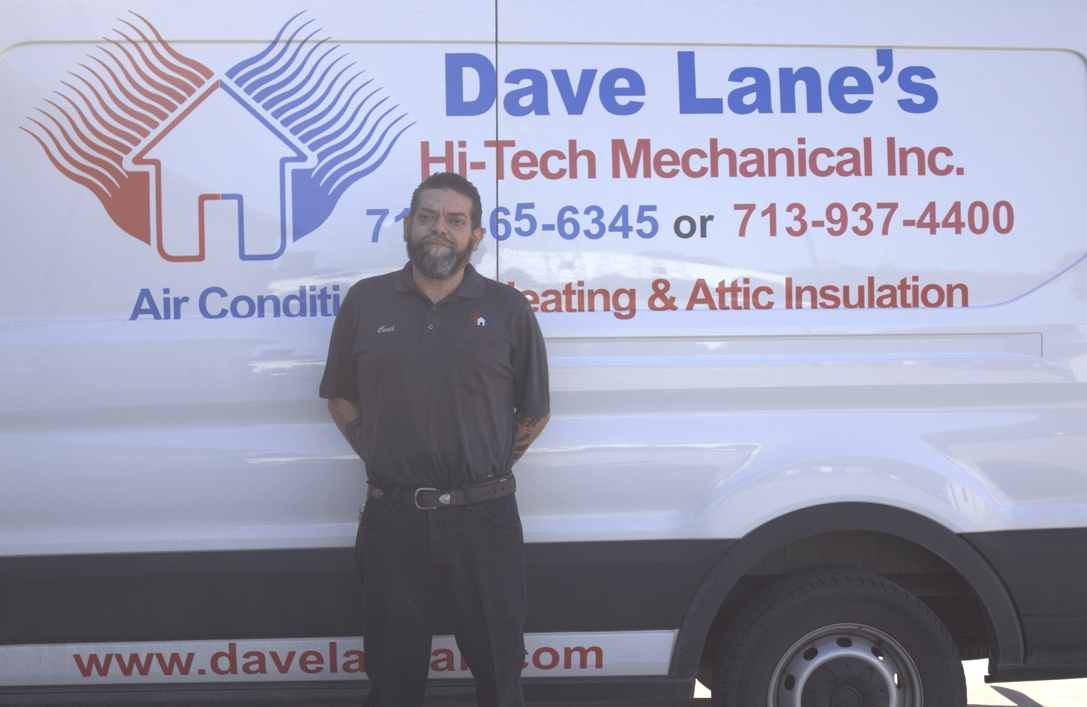 Cecil Garcia
Warehouse Manager
---
Cecil has been working for Dave Lane since 2010. He is a proud father of 2 boys and 1 girl. He worked in the hotel division of the company for 10 years before taking over as Warehouse Manager in 2020. He helps streamline the inventory and warehouse needs making sure inventory and equipment Is ready for our customers. His hobbies include spending time with family and friends and grilling on the weekends.
Marcela Juarez
Office Manager
---
Marcela has been with the company since 2016. She was office administrator from 2016-2022 and recently took over as office manager in 2022. Her job duties include overseeing the entire office and office staff. She readily communicates with numerous customers to ensure their needs are being cared for. Her goal is to provide the best customer service to every single one of our loyal customers.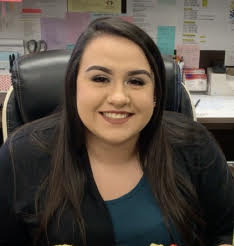 Miranda Quiroga
Office Administrator
---
Miranda joined the company June 2019; Miranda has quickly became a valuable member of the team. When not working, she enjoys a night out on the town with family and friends. If you have any questions, feel free to ask for Miranda when dialing in.
Sabrina Salazar
Dispatcher
---
Sabrina Joined the Dave Lane family in the summer of 2021. She prides herself in treating every customer with excellent customer service. If you want to hear a kind friendly voice, ask for Sabrina.