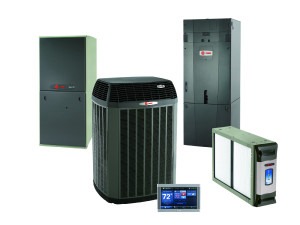 AC Installation Houston, TX
If you are in need of expert AC installation services, look no further, we offer everything you need for optimal performance and comfort all year long.
Finding a knowledgeable and experienced company to conduct your AC installation is not as easy as it seems. In order to complete an AC replacement properly, it's necessary to have excellent knowledge of the requirements for both the space it will be used, as well as the air conditioning unit itself.
This means having knowledge of the entire process of purchasing the air conditioning unit, tailoring it to the specific space it will be used in, as well as being aware of things that can go wrong along the way.
What A Poor AC Installation Can Mean For Your Home
An improperly conducted AC installation service can cause many problems. An improperly sized air conditioning system can result in cooling that is inadequate, high energy bills, and a shorter equipment lifespan. This can also occur if your ducts are not sealed properly or if they are improperly sized altogether. In other words, not conducting an AC installation properly will likely result in extremely high costs down the line.
We Offer the Best AC Installation Services Available
As a result of our extensive experience and knowledge, we pride ourselves on being the best AC installers in the HVAC industry. When offering our AC installation services, we take the time to do a proper load calculation, as well as take all important measurements of your home to make sure that your air conditioner is providing a comfortable level of cooling. We are able to guide you every step of the way in choosing the best cooling system for your home.
Need a New AC Unit?
Today's air conditioners provide more comfort and efficiency than ever before. Whatever size your home, whenever you need cool, comfortable, cleaner air, we're dedicated to providing the very best investment you can make for your family. What does that mean for your household? It means you'll enjoy complete comfort on the hottest days of the year and lower your cooling costs at the same time.
Cool Your Home With Highly Efficient Air Conditioners
A traditional Air Conditioning system has two parts: an indoor unit, such as a furnace or air handler, and an outdoor unit. The outdoor condenser unit releases the heat the refrigerant picks up inside the home. Indoor and outdoor units are designed to work together.
When the air conditioner is properly matched with a furnace or air handler, you get maximum efficiency and longer system life. Air conditioning and cooling efficiency are measured using a Seasonal Energy Efficiency Ratio (SEER). A higher SEER rating means higher energy efficiency.
GIVE US A CALL, WE CAN HELP!
---
If you are looking for reliable and experienced air conditioner installation services in the Houston, Texas area, Dave Lane's Hi-Tech Mechanical is at your disposal. We have a Gold Star Member standing with the Better Business Bureau and an A+ accreditation.
For a free consultation regarding your air conditioner unit, feel free to contact us today at (713) 465-6345!
1
What are the requirements for air conditioner installation?
One of the most important requirements of installing an air conditioner is that the unit is not covered both outdoors and indoors. The indoor part should be positioned centrally so that airflow is unrestricted, while the outdoor part needs to be well-ventilated. Also, drainage must be adjusted for both cooling and heating modes.
2
What factors should you consider when installing split air conditioning?
When installing split air conditioning, it's important to make sure that you have purchased the correct size of the unit. It is also important to maintain the filters and have your unit serviced at least once every two years. Also, think about insulating your ceiling void (if you have one) — a lot of cool air can be lost through this area.
3
How much does it cost to install air conditioning?
The cost of installing an air conditioning unit depends on many various factors, such as, size, labor cost, material, and the type of air conditioning you would like in your home.
4
How do I choose the best place to install a ceiling cassette air conditioner?
Ceiling cassette air conditioners should usually be installed in the center of the room. This is the case because it is necessary to make sure that the air is able to circulate in all 4 directions. It's best not to install them close to walls or in corners.
5
Is it possible to put some sort of cover over the front of my outdoor unit so that it is less visible?
Unfortunately not. The outdoor unit needs to have adequate clearance to permit airflow.
6
What would be the best place to install the outdoor unit of a split air conditioning system?
The most important thing is that your outdoor system is positioned so that it has clearance and it is able to operate freely. In addition, make sure that you are installing the unit in a dry and safe area as well as that you are keeping your neighbors and passers-by in mind.
7
How long does AC installation take?
The installation process itself shouldn't take longer than 2 days.
8
How do I know what size air conditioner to get?
Many different factors need to be considered when determining what size air conditioner to get. In particular, you should consider the size of the space that needs to be cooled, how hot it can get outside, as well as the purpose of the unit.