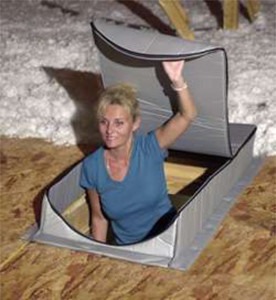 Attic Tent in Cypress
The amount of money you save will vary depending on your climate. The attic tent creates a thermal barrier preventing heat from the attic entering your home. It has been proven to reduce air transfer and is a good investment for your home.
Why You Need an Attic Door Tent
Attic door tents are some of the best insulation covers available in the market today. With the right attic tent, you can easily cover full-size doors, knee wall doors, scuttle holes and attic stairs, thereby keeping away the cold and gloom and ensuring it does not seep into the rest of your home.
Tent insulation is also designed to stop the infiltration of air between the attic and your home. This way, you will reduce costly residential energy during both cold and hot seasons.
Get Tent Insulation Today
The access points leading to your attic are a constant waste of money. Therefore, without an attic tent in Houston, TX, you will end up paying too much money on your utility bills each month. These entry points allow warm air to enter your home in summer, and escape to the outside in winter. This results in higher demand for both heating and air conditioning maintenance.
Expert Attic Access Insulation Services
When you add a protective attic door tent from Dave Lane's Hi-Tech Mechanical, you will receive the insulation you need around these points of entry. The tent will also allow you to save a lot of money on your monthly electric bills while also ensuring that your home is the most comfortable temperatures month in, month out. With increasing energy costs, it is imperative that you get the expert attic access insulation services that Dave Lane's Hi-Tech Mechanical provides.
GIVE US A CALL, WE CAN HELP!
---
If you are looking for reliable and experienced air conditioner installation services in the Houston, Texas area, Dave Lane's Hi-Tech Mechanical is at your disposal. We have a Gold Star Member standing with the Better Business Bureau and an A+ accreditation.
For a free consultation regarding your air conditioner unit, feel free to contact us today at (713) 465-6345!
Yes, of course. Attic tents are the ultimate insulation cover for attic access. They are primarily designed to prevent the infiltration of air between the attic and your home. Therefore, when you get the attic door tent, your HVAC systems will work well because your home will now be a closed envelope. It will also balance the air in your home and provide you with a better quality return and supply air.
2
How to cover attic opening?
The best way to cover the opening to your attic is using attic door tents. This way, you will get a tent insulation to prevent the exchange of air between your home and your attic.
3
How do I get in and out of my attic?
Whether the access point to your attic is an attic hatch, a knee wall door, or pull down stairs, you can be sure that the attic access insulation options from Hi-Tech Mechanical will not prevent you from getting into and out of the attic. In fact, we design our attic door tents in ways that allow you to open the attic whenever you need to get in there to pick something. Therefore, you shouldn't worry that the attic tents we sell in Houston, TX will prevent your entry/exit from the attic.
4
What is an attic tent and should I have one in my home?
Attic tents are designed using non-corrosive but heavy duty zippers. This way, they provide easy access to the attic while ensuring that the dust particles and insulation remain in there. As such, attic tents are great for improving the quality of indoor air while preventing the insulation from dropping onto your floor. If you have attic access and space is conditioned, you should get an attic door tent.