Commercial AC Installation Houston, TX
When you need commercial air conditioner installation, you can count on the top-rated contractors at Dave Lane's Hi-Tech Mechanical. Our crew of licensed and insured AC professionals takes the hassle out of commercial AC replacement and repairs. Contact us today at (713) 465-6345!
Nothing compares to the Texas heat. If your office building, workshop, garage, or warehouse is continuously getting hotter, your AC unit may need a tune-up, and depending on its age, a replacement may be necessary.
No matter what kind of AC services you need, our crew can provide quick repairs, professional installation, and regular maintenance to keep you and your employees safe, cool, and comfortable.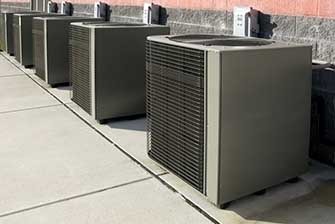 When it comes to commercial AC units, Houston business owners know who to call -
At Dave Lane's Hi-Tech Mechanical, we provide:
timely, accurate estimates
Superior commercial AC services
And customized solutions
For more information on our commercial AC services or to schedule an on-site estimate, contact our team today!
When to Replace Your Commercial Air Conditioner
You know how important a fully functional air conditioning unit is to your Houston home, but your commercial AC unit may be even more critical. Not only does it keep your employees, students, volunteers, or contractors comfortable, but it also helps to create and maintain a safe and productive working environment.
That said, we understand that a commercial AC unit is a significant investment for your business/organization. That said, if you're debating a commercial AC replacement, you may want to consider these four key factors -
Age of Your Commercial AC Unit

Typically, a commercial air conditioner will last anywhere from 8 to 12 years. If your unit is close to or beyond the 12-year mark, it may be time to pull the plug and invest in a new and more energy-efficient AC unit.

Previous Repairs

At Dave Lane's Hi-Tech Mechanical, we're proud of our expert commercial AC repair services. We always make ourselves available for ongoing maintenance or emergency repairs. But, eventually, repairs become more expensive than investing in a new commercial air conditioner installation.

Outdated Coolant Requirements

In 2020, the EPA ended the production of the R22 Freon coolant used in many old HVAC units. While the units themselves aren't illegal, you may want to consider a newer, more environmentally friendly unit. Otherwise, replenishing the coolant could become more difficult and costly since AC repair companies are phasing out R22 Freon.

Inefficient Heating and Cooling

AC units become less and less efficient as they age. If your AC runs continually, but your office or warehouse never feels cool, you may need more than a tune-up.
Houston's Top-Rated Commercial AC Installation
---
Whether your commercial AC unit breaks down in the heat of the summer or your aging air conditioner simply can't keep up, call the licensed and experienced crew of technicians at Dave Lane's Hi-Tech Mechanical.
Our commercial HVAC services ensure the comfort of your employees and customers, while also providing you with energy efficiency that will cut your monthly expenses.
If you feel tempted to hire an inexperienced technician, think again!
Our team has the knowledge and expertise to repair/replace your unit correctly the first time, while an untrained contractor could make the problem worse and cost you much more in the long run.
Save yourself the time, money, and hassle by calling the professionals first.
Don't put off an AC repair or replacement any longer. For more information on our services, or to schedule a free, no-obligation, on-site quote in the, please give our team of AC experts a call today at (713) 465-6345.