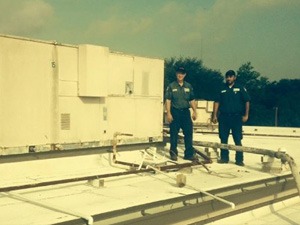 Commercial AC Repair Houston, TX
Our commercial AC repair technicians are ready to get you back to a more comfortable and energy-efficient working environment, give us a call now!
One of the worst things that can happen during the hot summer months is that the AC unit in your office or retail space breaks down, leaving you and your employees sweating and uncomfortable.
When this occurs, it is important to find a good HVAC contractor who will be able to repair your unit effectively and affordably.
Unfortunately, these days it is very difficult to find a technician who focuses on offering quality commercial air conditioning repair at an affordable price.
Is My Business in Need of a Commercial AC Repair Service?
Maintaining a comfortable work environment is important for any business, and commercial air conditioning units play a large role in that process.
If your employees are uncomfortable and even your customers have begun to complain, it may be time to call in a professional commercial AC repair company to fix the problem.
Common Signs You Need a Commercial AC Repair:
Your air conditioning system isn't turning on
Excessive noise coming from your unit during startup and/or operation
Your unit's fan still runs but the compressor has stopped working
Your AC unit is blowing warm air
Your air conditioner is leaking
You have noticed that your unit short cycles
You are experiencing high humidity
Foul odors coming from your ac unit
Nonexistent or poor airflow
High utility bills
Uneven cooling
Frozen coils
What Poor Quality Repairs Mean for Your Commercial AC System
If you hire an inexperienced contractor with little knowledge of air conditioning repair, your AC problem will only get worse. A bad technician will not be able to identify the root cause of the problem or tell the difference between a failed motor and a refrigerant leak.
Misidentifying the problem can lead to even greater problems in the future, costing your business even more money in the long-term.
We Offer the Highest Quality Commercial AC Repair Services
Dave Lane's Hi-Tech Mechanical is the best HVAC contractor in the Houston, TX area specializing in quality AC repair.
Over the years, we have dealt with a range of different air conditioning problems so there is a great chance that we have already solved a problem like yours in the past. We take pride in our 98% customer satisfaction score as well as the numerous awards we have received over the years.
GIVE US A CALL, WE CAN HELP!
---
If you are having trouble with the air conditioning unit in your office or retail space and you are in need of a commercial AC repair or commercial AC installation service, Dave Lane's Hi-Tech Mechanical is the best company in the Houston, TX area.
We pride ourselves in more that 20 years of service and we would be happy to assist you with any commercial AC repairs that you might need.
Commercial AC Repair FAQs
1
How should I choose the right air conditioning equipment?
When choosing AC equipment, it is important to consider both the capacity of the unit itself as well as the space that you are planning to cool. In other words, you should take into account lighting, the outdoor climate, as well as the number of occupants in your office space. Also, make sure that your unit is well-positioned so that it has adequate space for ventilation and that it is facing centrally inside to allow proper airflow.
2
What makes an air conditioner freeze up?
When a refrigerant leak occurs you are losing Freon into the atmosphere, in order to fix the problem the leak must be identified and repaired or replaced. Also check filters for proper airflow, a dirty filter can cause many problems to your air conditioning and heating system, such as freezing up during the summer or short cycling the heat during the winter time.
3
Can AC condenser be repaired?
Yes, it can. However, the repair depends on the nature of the problem — repairing the condenser involves fixing one of a number of parts that make up this component of the air conditioning unit. Because of this, the price of the repair can vary significantly.
4
How much is air conditioning repair?
This depends on the nature of the problem. AC repair can vary between $150 and $500. However, the average is around $300 per repair.
5
How to troubleshoot an air conditioning system?
If you are trying to figure out what is wrong with your AC unit, it's best to start by determining whether the AC is receiving electricity. If it is, then check why it's not working properly — is the filter dirty? Has ice formed on the coils? Is the outdoor compressor working? If none of these questions are helping, contact an HVAC specialist for a consultation regarding your problem.
6
Is there anything I should check prior to calling for repair service?
Check if your AC unit is being supplied with electricity. One of the most common problems that we encounter is a working AC unit that either is not plugged in or has a bad electricity connection. Also, it's good to check the AC filter every once in a while.
7
How do I know if my system is working properly?
Your AC system is working properly if space within which it is located is cool and your energy expenditure is not excessive. Your air quality should also be good — a bad smell or dust in the air could be an indicator that your system is not working well.