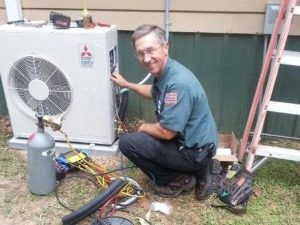 Katy, TX, AC Repair
When your air conditioning needs repair or service, you want to call someone who is trustworthy, reliable, and can fix it promptly!
For over 40 years, Dave Lane's Hi-Tech Mechanical, Inc. have been answering calls and delivering red carpet service to homes in Katy, TX. We provide professional A/C Repair, Installation, and Tune Up services.
Our friendly staff delivers the best in customer service to you. That is why we are the most called upon air conditioning repair company in Katy, TX. Dave Lane's service techs, installers, and office staff all know the customer is our priority!
When you call Dave Lane's, you will find courteous and informed staff ready to schedule your appointments. Certified HVAC technicians who know how to identify issues – and provide solutions – are ready to come to your home. And installers who are committed to providing excellent service, will professionally install your new unit.
Call us today! We're ready to serve you!
Air Conditioning Maintenance in Katy, TX
Did you know that in Katy, TX A/C units run an average of 2200 hours a year? That is a lot of hard work on an air conditioning system! Dust, debris, and mold can develop on your unit causing it to work harder.
You can regularly change air filters and do a visual inspection of your unit, but a true inspection and air conditioning maintenance should be done by professionals.
Maintaining a regular schedule for professional air conditioning maintenance with Dave Lane's will eliminate worry and concern about your unit not working when you need it most. It will also save you money on energy bills.
Air conditioning maintenance from a Dave Lane's professional technician includes inspection of:
Outdoor condenser coils
Electrical connections
Start/run capacitors and relays
Indoor evaporator coil, if accessible
Condensate drain line to protect against overflow
Blower assembly operation, lubricate and adjust as necessary
Thermostat and confirm proper operation
In addition, we check for:
Condenser fan motor operation
Checking amperage of compressor and fan motor for proper operation
Testing operation and condition of compressor contactor
Check for refrigerant leaks if necessary
Evaluate condition of air filters and other air quality accessories
Safety test all controls for proper operation
Evaluate overall efficiency of the system and inform the customer of equipment condition
Wash the condenser coil
Add algaecide to main drain pan to prevent clogs and ceiling damage
Air conditioning units are in in an investment in comfort for you and your family. Scheduled maintenance and air conditioning service of your system will provide peace of mind to know your unit will always run properly.
Air Conditioning Repair in Katy TX
Nothing is more frustrating than entering your home after a long day at work to find that the house is HOT! When you need air conditioning repair you want it fast – and done right! Dave Lane's team of experts can help to identify – and repair- whatever is wrong with your air conditioning system.
Before calling an air conditioner service company, however, there are steps you can take to be sure the problem isn't something simple that you can repair on your own.
Check to see if …
The unit, and breakers, are still turned on. Yes, simple accidents like this happen.
Wire connections are secure. A loose wire may prohibit the unit from operating properly.
The thermostat is set correctly.
If all of these are okay, then an a/c repair call is your next step. We'll schedule a visit promptly.
At Dave Lane's, we have been providing HVAC servicing since 1976.
When you call us to repair your air conditioning system we will look for:
Dirty or bad capacitor
Flawed condenser relay switch
Faulty control board
Burnt motor
Damaged coils
You can trust Dave Lane's to quickly identify the issue that is causing the problem, and to be able to repair it quickly.
Air Conditioning Replacement in Katy, TX
No one likes to think about having to replace an air conditioning system. It sounds costly and time consuming. However, if you have an older air conditioning system, it may be more economical for you to replace your current system. Technology has made newer systems more efficient and cost effective.
Replacement parts for an old system could cost more than a new system. Consider if you replace some parts now, then next year, others could fail. And eventually, you'll have to replace the system anyway.
When you call Dave Lane's, a professional air conditioning specialist will come to your home to see, inspect and understand the indoor and outdoor spaces of your home.
They will recommend the best unit for your space. The one that will ensure lower energy bills and the cooling you desire.
When a Dave Lane professional installer evaluates your space, we consider:
Size and type of unit that will work best in your home
Positioning of blowers for the best cooling coverage
Proper placement of outdoor units for adequate airflow around the unit
Ductwork installed to provide regulated air flow throughout the space
Your budget and financing options.
Call for an appointment with one of our Dave Lane's professional to determine the best air conditioning system to install or replace in your home.