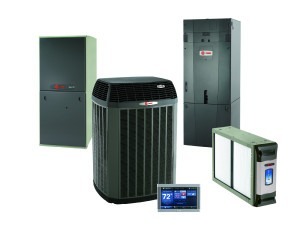 The Woodlands, TX, Air Conditioning Contractor
As members of The Woodlands, Texas community, we're in good company with such corporations as McKesson, Maersk Line and Exxon Mobil. The Woodlands was also a master-planned city as well. And on that subject, we have a master plan of our own – to offer HVAC repair & AC services that are second to none!
We Provide Affordable HVAC & AC Services For The Woodlands
"Red Carpet Service Since 1976." This is the creed we have lived by, and even though Dave Lane has been retired for 15 years, it still continues to be our driving force. Red carpet service means different specific things to different people. Here's what it means to us.
When we're talking about HVAC repair, if HVAC units simply need an inexpensive repair, we'll send you one of our six service techs to give you professional and affordable HVAC repair, plain and simple. We don't sell new units to our customers if a simple repair will get their current one back in action again.
And in the event that you do need a brand new HVAC installation, we have six HVAC professional installers to get the job done as smoothly and quickly as possible.
We're here to serve The Woodlands, and proud of it. If you're in need of HVAC repair or installation, give us a call.
Dave Lane's Hi-Tech Mechanical provides the following quality professional AC and Heating services:
No matter how good a machine is, they can and do break down. HVAC units are no exception. So you will, on occasion, need a good AC repair service, because you cannot ignore it. Even a small problem can turn into a larger, more expensive major repair. Or worse, you could need an even spendier new unit. All of this can be avoided, if it is checked by a professional.
Residential HVAC repair helps ensure long term use from your AC unit. Maybe one day your unit starts making a noise you don't recognize, or if it takes longer to cool your house than normal. More often than not, it can be a simple fix that could prevent your unit from breaking down – the last thing you want to happen when it's hot!
The same goes for your heating unit during the cooler months. But it can be potentially more dangerous if you have a forced air gas furnace. If the unit stops working in the middle of the night, it won't turn off the gas. So while you're sleeping, dangerous carbon monoxide can continue to seep into your home with no ventilation – which can cause either illness or even death!
Even for what seems like a minor issue, don't hesitate to call us!
Whether you're installing a central unit in your new home, or replacing your current one, we have six installers, qualified and certified to make sure your AC is installed properly.
Installing an AC is not as simple as selecting a unit, hooking up hoses and wires and flipping the switch. There's a lot to consider even before the installation. You need to determine the right sized unit for your home. If it's too small it will not give you adequate cooling, and it will work extra hard trying. You also need to make sure that your AC ducts are the right size and sealed properly, or you will again experience inadequate cooling.
You can imagine how all of these things can impact your electric bill. So having your unit installed properly will avoid this.
Remember that our company has been serving this area for more than four decades. That experience will not go wasted on your installation. We will do a proper load calculation, and measure your home where it needs to be measured, all to make sure your AC will give you a comfortable level of cooling when it's time to flip the switch.
Bottom line – we'll make sure you get the right AC and that it's installed right.
An ounce of prevention is better than a pound of cure. Just as it is true with cars, AC units need occasional tune ups to make sure it remains in good operation. Many repairs, even small ones, can be avoided when the AC unit is tuned up.
If your AC unit is not maintained, it will use more electricity, working harder to cool your home. And you well know that this could turn your electric bills into nightmares. So even though tune ups may cost you a bit, think of them as a wise investment, one that will save you tons of money over the long haul.
A tune up is a matter of:
Checking to see that all areas of the unit are in good order, correcting any potential flaws or problems that could keep your AC from operating correctly.
Cleaning the unit of cobwebs and dust from key areas that could interfere with normal operation.
Replacing, if necessary, any parts that are malfunctioning.
Especially during the really hot months of the year do you want to make sure your AC is ready to keep your home cool. And remember, we've served The Woodlands/Houston area for a long time, so we're just as experienced with tuning up AC's as we are repairing and installing them.
Reliable AC & HVAC Repair You Can Trust
No two HVAC companies are alike. In fact, there may be just a handful that treat their customers right. We know for a fact that we do!
Naturally, the entire company is going to be judged by how well a repair is made. The attention to detail a tech gives to the repair is something that should be obvious to you.
But we also know that it isn't simply about doing the job right; it's about the relationships we establish with our customers. Our techs and installers are not just good at what they do – they're down to earth, good people who are good to people.
We will do our utmost to never allow anything to interfere with our giving you that "red carpet service" we spoke about. From the actual repair to our interaction with you, our aim is to make the whole experience a good one.
Contact Dave Lane Air, The Woodlands' Top Choice For Air Conditioning Experts
---
Don't let a small problem get out of hand so that your AC leaves you dripping with sweat struggling to keep dry and cool. Contact us immediately if your unit is not operating normally, even if it seems like it is "no big deal." We could help you prevent major problems and save you money in the long run.
So if you live in The Woodlands or Houston areas, and you're ever in need of AC repair, tune up or installation, you can rest assured that we'll give you quality service at an affordable price. Give us a call today!