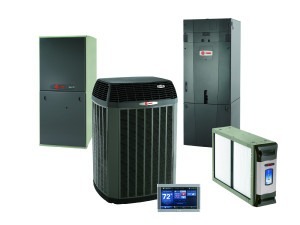 Cypress, TX, Air Conditioning Contractor
Dave Lane started working in the AC and heating field in 1963. As a Cypress air conditioning contractor, he immersed himself in education so he could start his own business, which he did in 1976. Though Dave Lane retired in 2003, his legacy lives on to this day.
The company is currently owned by Danny Nunley. Danny started working with Dave in 1987 but has been in the A/C and heating field since 1985. Hi-Tech Mechanical continues to provide top-notch service to its customers.
Expert Air Conditioning Services in Cypress
Dave Lane's Hi-Tech Mechanical provides the following quality professional AC and Heating services:
To install an air conditioner properly, it's essential to have knowledge, experience and the correct tools. Having your air conditioner installed by someone who doesn't know what they're doing could lead to issues like an improperly sized air conditioning system, which could affect the cooling in your home. Additionally, you would be risking the ducts not being sealed properly. These errors could lead to costly repairs in the future, so it's important to get it right the first time.
It's important to keep your air conditioner up-to-date on maintenance. Without maintaining your air conditioning unit, it could stop working effectively. You will also likely pay more on energy bills since your air conditioner will end up working harder. It doesn't take long for a professional to provide maintenance, and you will save on bills, as well as lowering your risk of repairs.
At the very least, it's important to clean your air filters to avoid dirt and dust accumulation that can affect the way your AC unit cools down your home or business. How often you need maintenance varies. For example, if you have 5 to 6 people in an office, you should consider getting maintenance at least twice per year. If you have a larger area with more people, you will need maintenance more often. It's best to ask one of our professionals when they get to your home or business, so they can give you an accurate maintenance schedule guideline specific to your needs.
Air conditioning units experience fewer technical issues if they receive tune-ups periodically. Without tune-ups and maintenance by a professional, the components of an air conditioner can become covered with dirt, biological growth, and debris. Tune-ups include inspecting the coils, refrigerant, evaporator coil, fan motor operation, thermostat, and more.
Repairs are important to fix any flaws that your air conditioner may have. Putting off small repairs here and there can be quite costly down the line. It's best to take care of any potential repairs as an issue occurs. It's not just about the cost or the chance of needing to purchase a whole new unit, it's important for your health. When air conditioners aren't working properly, in some cases they can emit carbon monoxide, a gas that is known to cause illness and even death.
If you hear odd sounds, aren't feeling as cool or warm as you're used to, notice the unit taking longer to cool or heat, or your energy bill goes sky-high for no reason, it's time to see if your system needs a repair. Make sure to hire a true professional who knows what they are doing so you don't experience even more problems.
Having your air conditioner break down in the summer is a huge blow to a business. Not to mention, your employees will be uncomfortable, which can affect the quality of their work. When you need repairs, it's best to contact a good contractor who knows repairs inside and out. An inexperienced technician most likely will not be able to identify the root problem. They may also not be able to tell the difference between a refrigerant leak and a failed motor, which can pose a huge problem.
On-Time Emergency AC Repair
Emergencies happen, and our team is ready to tackle any small or large problem you present to us. A cooling emergency needs prompt, on-time service to restore the function of your air conditioner. If it's a very humid day and your air conditioner stops working, not only will you be uncomfortable, but items in your home could even be damaged.
There are several scenarios that constitute an air conditioner emergency. If your AC won't work, you need a professional right away. If your AC is causing water damage, don't put this off until normal business hours. Mold growth can occur in just 24 hours and begin attracting pests. If you notice electrical issues with your AC, you need to call an experienced technician right away as this is a serious problem and could cause a blackout or fire.
You need someone who is going to arrive promptly, someone who puts their customers first. Your repairs are important to us and we can't wait to serve you.
Make sure to have a professional on speed dial in case these emergency issues ever arise and you are in need of AC repair. It's best to call a professional you know and trust, like us, so we can get to the bottom of the problem. Hiring just anyone can lead to even more serious damage.
Contact Dave Lane Air, Cypress' #1 Choice For Air Conditioning Experts
---
Whether you're looking for routine Cypress air conditioning maintenance or repairs, or you need an emergency repair, contact our professionals and we will get someone out to you as soon as possible. Our AC and heating specialists are equipped and ready to handle any situation you have on your hands. We take pride in taking the headache away from our customers so they can get back to cooling down with their air conditioning unit or staying warm in the winter, all while saving money in the long run.
If you're looking for professionals who value a job well done, look no further. You need someone trustworthy, thorough, and competent to provide air conditioning services in Cypress. We don't believe our work is finished until our customers are satisfied.
While we usually have our air conditioning experts around, you can also leave a voicemail describing your problem and we will return your call ASAP.